Submissions for 2019 ASLE book awards in the areas of ecocriticism and environmental creative writing are now being accepted.  The call for graduate student paper submissions to be presented at the conference will follow this winter.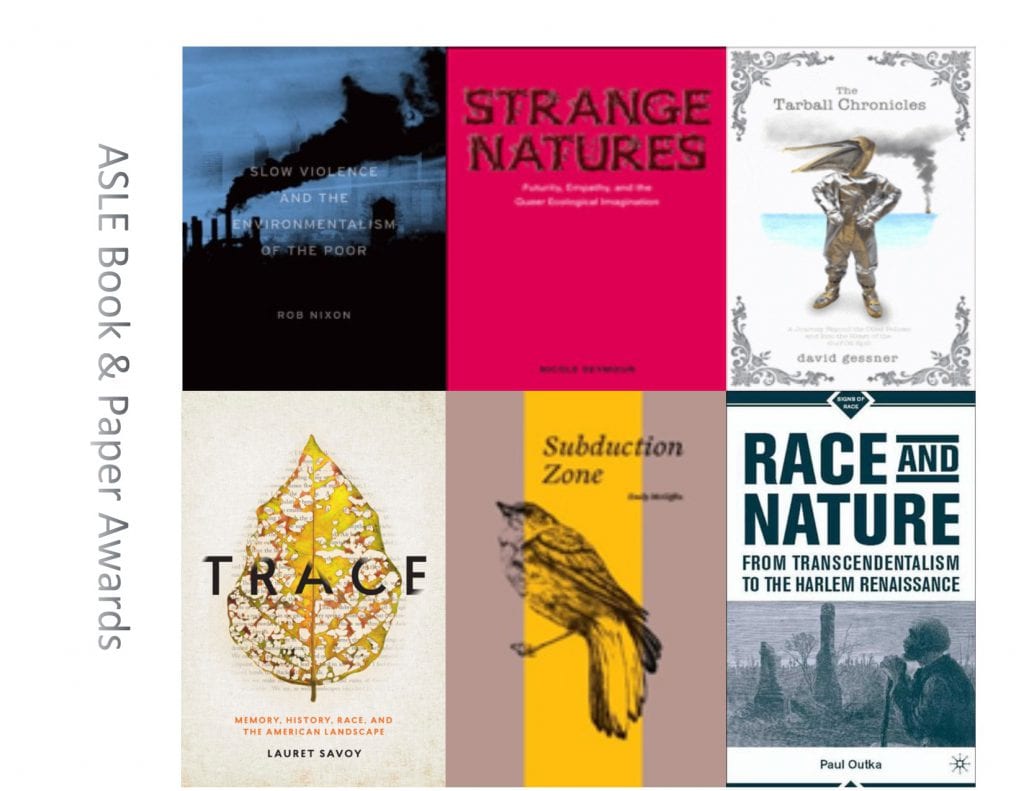 First given at 2007 Biennial Conference held at Wofford College in Spartanburg, South Carolina, the ASLE book and paper awards recognize excellence in the field. The most recent awards were presented at the 2017 conference held at Wayne State University in Detroit, Michigan, to Lauren Savoy, Jesse Oak Taylor, K.M. Ferebee, and Marta Werbanowska.
The awards for 2019 will be presented at the Thirteenth Biennial ASLE Conference, to be held at the University of California, Davis, from June 26-30, 2019. Those awards will be for books published by ASLE and affiliated members in 2017 and 2018. Guidelines are posted below for rules and instructions on how to submit your work for consideration for the 2019 awards.
Deadline for submissions is January 7, 2019.
SUBMISSION INFORMATION
2019 Book Awards Submission Instructions
2019 Graduate Student Paper Awards Submission Instructions
AWARDS CO-COORDINATORS FOR 2019
Environmental Creative Writing Book Award
Janine DeBaise, SUNY-ESF
jdebaise@gmail.com
Ecocriticism Book Award
Salma Monani, Gettysburg College
smonani@gettysburg.edu
Graduate Student Papers Awards
Nicholas Bradley, University of Victoria
nbradley@uvic.ca